¡¡Last Year's 10th Anniversary DRUMSTRONG 2016 LINEUP!!
Stage Schedule :: MAY 21, 2016 ::
11:00 – Swimmer Family DrumCircle Kick-off, Panthers PurrCussion Drum Line
1:30    Hardin Minor Parade, Belly Dancers
2:30 – 3:20 

Flatland Tourists

 Carolinas Music Awards 2015 Americana Band of the Year
3:25 – 3:45 Hardin Minor Parade, Belly Dancers
4:15 Hair-Cutting Ceremony + 4:30 – 5:00 Tracy Thornton+Sipe+Kevin Spears
4:30 May Pole Dance
9:00– 10:00 

Jeff Sipe Trio

 (with Special Guest Mark Sanders of The Steep Canyon Rangers!) 

Have a Listen
10:30 – 11:30 Drum Circle Finalé!
The KRÜGER BROTHERS Internationally acclaimed, über accomplished "bluegrassical" pickers & grinners ::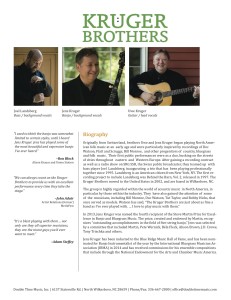 12 hour YogA Thon (Charlotte area's finest practices collaborating to keep it Deep and Flowing)
All Day (Late Night!) DRUM CIRCLE !!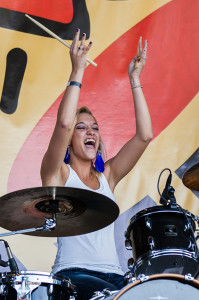 DS '13 Hannah Ford Welton :: Prince
R

•

H

•

Y

•

T

•

H

•

M is a sneaky thing :: it's been known to find its way across borders, influence cultures and infiltrate our psyche ...
Some of the planet's greatest players are using this 'instrument of mass percussion' to do great good.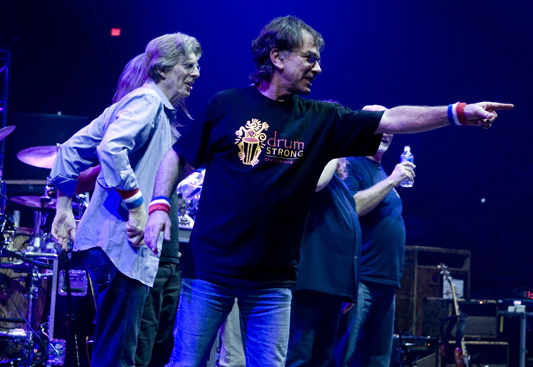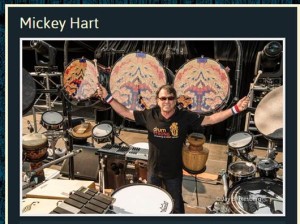 Mickey Hart  supporting DRUMSTRONG 
© Jay Blakesberg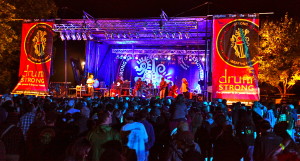 Railroad Earth @DS'14
If you're a performing artist and want center stage time, please contact Scott at scott@drumstrong.com
:: OUR MAGNIFICENT FACILITATORS ::
Global Facilitators
Tomoko 'Tomtom' Yakota :: Orange Boom Boom  Japan
Noriko ' NonNon' Mihara :: Orange Boom Boom  Japan
Rhonwyn & John Hagadorn :: Kuala Lumpur, Malaysia
Amy Jackson :: DrumRise Atlanta

:: For Info on Drum Circle Facilitation and training, please visit ::
DRUMSTRONG has world renowned, professional artists and outrageously phenomenal DrumCircle Facilitators playing with us and directing our rhythmical interchange.

Master Percussionist Peter Erskine and Master Facilitator Arthur Hull   by :: Barry Schwartz
Artists with Heart who support DrumsForCures :: DRUMSTRONG include :: Peter Erskine, Mickey Hart, Giovanni Hidalgo, Willie Nelson, Tris Imboden, Arthur Hull, Jonathan Fishman, Rick Latham, Vinx, Jimmy Chamberlin, The Brubeck Brothers, Jim Donovan, Levon Helm (may he rest in Peace), Gerry Brown, Franklin 'Prince' Vanderbilt, Abe Laboriel, Jr, Vicki Randall, Michael Franti, Alphonse Mouzon, Hannah Ford Welton, Zakir Hussein, Otha Young (may he rest in Peace), Eddie Tuduri, Bernard 'Pretty' Purdie, Richie Gajate Garcia, Emil Richards, Jeff Sipe, Jeff Coffin, Felix Pastorius, Bill Fanning, Kofi Burbridge, Mark Schulman, Leon Mobley, Remo Belli (may he rest in Peace), Dr. Ami Belli, Dr. Angelo Belli, Johnny Rabb, J.R. Robinson, Valerie Naranjo, Los Lobos, Sol Driven Train, Mike Seal, Frank 'Thunderdrums' Bloom, Jason Hann, Michael Travis, Jimmy Herring, Dave Schools, Simplified, Bloodkin, Bart Elliot, David Stanoch, NuZuLu, Daniel Glass, Peter Tork, Leland Sklar, Rick Shlosser, Ed Shaughnessy (may he rest in Peace), Jack DeJohnette, Pat Petrillo, Jim Brock, The Lamping Shades, The Dude Abdules, Mike Meadows, Jai Uttal, Daniel Paul, Christine Stevens, Joe Porcaro, The Bacon Brothers, Jason Roberts, Hymns Band, The Candles, Norah Jones, Greg 'G Wiz' Wieczorek, Travis Baker, Elliott Randall, Ritchie DeCarlo, Bill Payne, Richie Hayward (may he rest in Peace), Wally Ingram, Walfredo de los Reyes, Wally de los Reyes Jr, Danny de los Reyes, Ginger Baker, Kofi Baker, Luke Quaranta, Toubab Krewe, Keller Williams, Donavon Frankenreiter, Matt Grundy, Ralph MacDonald (may he rest in Peace), Robin Wilson, Mike Peters, Glenn Tilbrook, Dave Wakelin, Matt Sorum, Dread Zepplin, Zoro, Phil Collins, Chester Thompson, Cameron Tummel, Max Weinberg, Kevin "KalimbaMan" Spears, David "Fingers" Haynes, John Densmore, Rod Morganstein, Ed Toth, Tuatha Dea, Drew Hester, Stanton Moore, John Kadlecik, Katy Gaughan, Djesben, Joe Russo, Sikiru Adepoju, Matt Butler, Lauren Monroe, Rick Allen, Steve Campbell, Lindsey Rust, Roy Futureman Wooten, Victor Wooten, Horacio "El Negro" Hernandez, Samuel Dinkins III, N'dugu Chancler, Scott Kettner, Michael Shrieve, Ronn Dunnett, Matt Abts, Kris Myers, Umphrey's McGee, YonRico Scott, Pete Escovedo, Maria Howell, Jim Brock, Donnie Marshall, Rick Blackwell, Luke Smith, Charlie Adams, Jim Avett, Paulo Mattioli (may he rest in Peace), Garry Kvistad, Rick Kvistad, Pete Levin, Chet Doboe, David Murphy, STS9, Donnie Marple, Simplified, 7 Walkers, Mike Donovan, DrumBum, Papa Mali, Kirk Joseph, Bill Kreutzman, Eric McFadden, Abbey Rader, Jason Bitner, Mike Dupke, Jim Keltner, George Porter, Jr, Terrence Houston, Michael Lemmler, Brint Anderson, Khris Royal, Sticks & Skins, Tom Roady (may he rest in Peace), Forrest Richardson, Seven Antonopulos, Earl Slick, Dennis Stauffer (may he rest in Peace), Billy Amendola, Matty Amendola, Jim Catalano,  Johhny Craviotto, Rich Redmond, Mindy Abovitz, Poncho Sanchez, John Good, Don Lombardi, Steve Ferrone, Nick Mason, Todd Sucherman, Shauney Baby Recke, Terry Bozzio, Alex Bailey, Chris Brown, Sam Bush, Simon Phillips, Vic Firth (may he rest in Peace), Nikki Glaspie, Butch Norton, Mamady, Harvey Mason, Billy Chambers, Liberty DeVitto, David Segal, Dom Fumalaro, Dame Evelyn Glennie, JEns & Uwe Kruger, Joel Landsberg, Sven Kasakowski ...
Remo was a positive, forward-thinking gentleman that had his thumb on the pulse of drummer's needs, created beautiful, practical, sustainable percussion solutions, and had a passion to benefit all aspects of community through rhythm.
He was the first industry giant to embrace DRUMSTRONG.
Within 28 seconds of meeting him over 10 years ago, he gave me sound advice. As he pointed to my DRUMSTRONG T-shirt which had our first logo on the front that read BEAT IT! BEAT IT! BEATing cancer! he said, "You can't say that. You can't claim that you are beating cancer. You are making beautiful efforts towards that end."
I went home and changed the logo on all of our promo (which stands today,10 yrs later) to DRUMSTRONG 'drumming to BEAT cancer'.
To Ami, Angelo and the entire REMO family, I share your loss and pray that his memory soon brings warm smiles to all .. just as his ingenious innovations and magnanimous intentions will do for all time...

John Kadlecik (Dark Star Orchestra, Further)

Mickey Hart

Tris Imboden (Kenny Loggins, Al Jarreau, Chicago)

Hannah Ford Welton (Prince)

Steve Campbell, Franklin "Prince" Vanderbilt, Lindsey Rust   

by ::

 Barry Schwartz

Jeff Coffin (Mutet, Dave Matthews Band)

Scott, Rick Latham, Vernon Lewis, Cameron Tummel

 

by :: 

Barry Schwartz

Felix Pastorius
The Brubeck Brothers, Vinx, Jim Donovan, Jim Brock & Friends

Jim Donovan (Rusted Root, Sun Warriors)

Kris Meyers (Umphrey's McGee)

Jeff Sipe (Col. Bruce Hampton, Aquarian Rescue Unit, Warren Haynes, Jimmy Herring, everybody!)

Gerry Brown  (Stevie Wonder, Diana Ross) & Alphonse Mouzon (Weather Report) may he RIP
D
-••

R

•-•

U

••-

M

--

S

•••

T

-

R

•-•

O

---

N

-•

G

--•