CHI&E and PPPulse are extraordinary programs being developed.

CHI
&
E 

::

 Cancer Health Integration & Education 
DrumsForCures is developing programs to be implemented in schools to educate young people about the importance of cancer health through preventative and early detection measures.
Encouraging cancer conversation at middle school through high school levels so that young people will know that they will maintain healthy living practices, have specific baseline check-ups at certain age intervals, know what to expect (to certain degrees) if they or somebody close to them are diagnosed, and to better understand the physical, emotional, social and economic considerations that surviving cancer may have on them.
The course will be a curriculum subject through the schools' Health Classes and progress with age-appropriate criteria. A clear, engaging yet simple CHI&E Handbook/course-chart and online material will be made available to follow and take home.
Engaging parents and family members in the conversation brings prevention potetential full-circle.
Online specialists will monitor the program and make screenings and counseling available. The services will include information and protocol for schools' administration on how best to work with the compromised health of or loss of a student, parent or school employee. Conferencing will be accessible so schools that have experienced the loss of a student or faculty member can access guest speakers individually and/or in assemblies.
Courses will include
Prevention :: Healthy practices (diet, exercise, meditation, environmental exposures, smoking, alcohol, drug use, etc.)
Early Detection :: Family history, self and scheduled base-line and regular exams, warning signs
Familiarization :: Survivorship, Peer Support, Socialization (conversation with survivors), School Assemblies, FAQs (not contagious, genetic propensity, metastases, immune system, 'myths', etc.)
Protocol/Treatments :: Chemo, Radiation, Trials, Surgery, Rehab, Integrative reinforcement, Supplementation, Counseling, Living with cancer or with somebody dealing with cancer, Music, Art, Nature and Movement Therapies
Family Therapy, School Assemblies, Zoom conferencing

PPPulse 

::

 Pediatric Percussion Programs
DrumsForCures has established PPPulse 

::

 Pediatric Percussion Programs, bringing facilitated, interactive rhythm experiences to hospitals, clinics and camps for patients, families and staff.
Drumming with young people (and all populations) creates a healthy, 

participatory 'distraction' from whatever concerns us and a place where healing takes root.
When drumming, all else is forgotten and we live and play in the moment.
It is something every body can do regardless of physical capacities or talent. Countless health benefits ensue and the relationships between patient and caregiver change forever.
Fun, uplifting

'

grooves

'

and beautiful memories are created.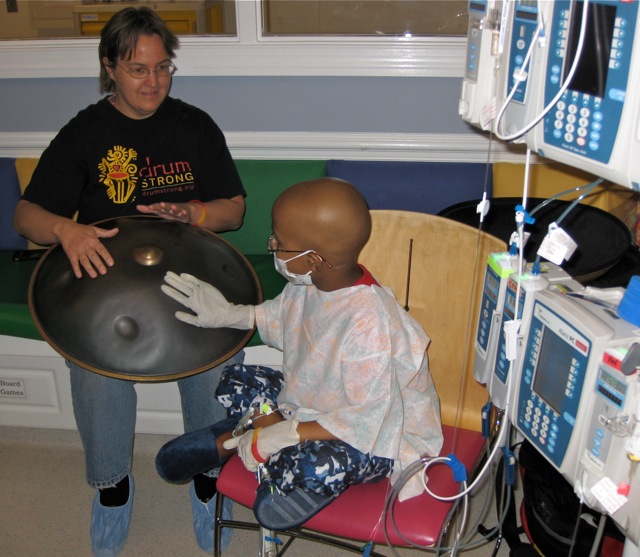 D
-••

R

•-•

U

••-

M

—

S

•••

T

–

R

•-•

O

—

N

-•

G

–•