¡

DR

UMSTRONG 20/20

Vision of Heart

!
14th ANNIVERSARY
May 16

,

2020



¡Let FreeeeDrum Ring!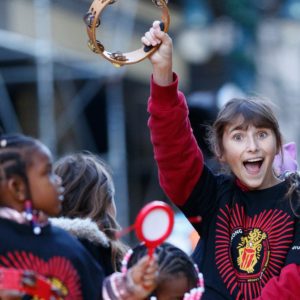 This year's event will again be located in the beautiful pastures of Misty Meadows Farm, 455 Providence Rd. S. & Ennis Rd. Weddington, NC 28173 .. and FREE!
  :: Address ::
455 Providence Rd. S @ Ennis Rd.
Weddington, NC 28173
Click here for a map to the festival grounds
:: 

Saturday, May 16

::

 Main Event with Music, Dancing, Vendors, Art, Food Trucks, Health Expo, KidZone, YogaThon, Parades, Hammock Garden, non-stop DrumCircle & lots of Smiles!  FREE!
::

 Gates open @ 10:30am 

::

 11:30 Opening Ceremony

::

 NOON DrumCircle to BEAT cancer kick-off 

::

 6:00pm Drum Circle Finalé (6 hours non-stop!) 

:: 

featuring a non-stop 6 hour Drum Circle (come & go as you please), celebrity players in the circle, Health Resources, YogaVille, KidZone, cool Raffle and Food Trucks.
Raise $200. in pledges (ask family, friends, co-workers, neighbors to sponsor your per hour drumming) and join us for a rockin after-circle catered dinner party with prizes and live music!
rain or SHINE!

!

! 
(we have BIG Drum Circle tents for cover!)
Join celebrity artists and thousands of good people (Globally) in a unique, multicultural, musical charity event showcasing available resources that support people with cancer and those who love them. Because this year's DRUMSTRONG event is free we need you to help raise funds to support our good work Print the PLEDGE_LETTER and gain 

'per hour drumming' Sponsorship Pledges. Ask Family, friends, co-workers, neighbors to sponsor you for your per hour participation (Ex. $20 per hour x 2 hours x 10 sponsors = $400!).
We gather in rhythm to BEAT cancer!
Here's the Deal 

::

We (a lot of us) are going to do two things at once ::
We break the planet's record for the Longest continuous rhythm *Drum Circle* ever held (and possibly the Largest!), drum with people globally (simultaneously) and, at the same time, raise awareness and incredible amounts of money for survivorship assistance, education and research for one of the most nefarious diseases known to man.
We will throw ourselves at eradicating cancer, fortify our friends, families and ourselves, glean useful info about the resources available to address cancer and have a blast doing it!
OK, so that's like what, five things at once…
In the words of Mason Swimmer, "cancer just plain sucks" and needs to be made history. Wiped out. Scratched off the "worry if I have it or if I'll get it" list.
Unfortunately, at some point in your life, the chances are that you will be directly affected by the disease. cancer is a global issue. It affects 1 in 2 men and 1 in 3 women in the US alone.
The health resources exhibited at our events represent both conventional and complementary healthcare entities, together with private practices and cancer societies.
They offer important information about methods of prevention, detection, treatment and care.
It's a gathering to rhythm. It's the beat of community, the BEAT of hope. Music truly is universally engaging all ages and stages of health.
DRUMSTRONG™ raises funds to be distributed among local and national cancer initiatives.
Get in motion with your 'per hour drumming' Sponsorship pledges and/or Form a Team TODAY! Or simply DONATE Now!
Raise $2,500 + and DrumsForCures will donate the proceeds to the cancer charity of your choice, in your community, in your name.
::

When and Where

::
 And PLEASE keep it clean! Place all trash in receptacles And RECYCLE!!!
Please carpool whenever possible. Just follow signs (and be nice to the parking/traffic control folks).
::

Health EXPO

::
We feature exhibiters that include both conventional and complementary healthcare entities, together with private practices and cancer societies.
People receive guidance from the exhibitors and familiarize themselves with some of the health resources available regionally, nationally and internationally that help address the physical, mental and emotional concerns that cancer can impart.
DrumsForCures does not endorse or promote any particular treatment or facility; we simply want you to know of the available resources; which may further educated decisions about who will help you (link to exhibiters) and who you support (link to charities).
Vendors of quality food, drums and souvenirs and lots of kids activities create a festive environment.
Tai chi, Massage, Yoga practices and Percussion & Facilitating Instruction will be on-going throughout the weekend.
::

Vendors

::
LOTS of beautiful Art, really nice drums and cool percussion toys for sale.
GREAT New DRUMSTRONG drums and Tee-Shirts + Merchandise!
Art, glass, jewelry, ceramics, woodwork, prints, clothing, candles, gifts, books and music.
GOOD FOOD and snacks. There will be vendors providing great "hydration" and "fuel" on site very reasonably priced.
Percentage of proceeds from all sales are donated to DrumsForCures, Inc. charities.
::

Instruments

::
If you don't have a drum, we sell a variety of great percussion (including :: djembes, tambourines, claves, shakers and other fun percussion instruments) very reasonably proced. There will also be fine craftspeople on site in our artisan fair area with quality instruments for sale. We have stuff to bang on…
Serious drummers :: watch the weather; you might want to bring synthetic skins in case of inclement weather/drumming conditions.
:: 

Drum Instruction 

::

 

Learn to Play

::

 

There will be on-site, in-motion hand drum instruction throughout the weekend.
::

Drum Circle Facilitators

::
We have World Class, professional, outrageously phenomenal DrumCircle Facilitators present to play with us and direct our rhythmical interchange.
They will keep our rhythm in motion non-stop :: Join in at your leisure or make it your Goal to DRUM LONG.
::

Global connections

::
DRUMSTRONG events are held in cities all over the world. Folks all playing together simultaneously; drumming via webcast with the same intentions :: to BEAT cancer.
see ::  Home Page "Where in the World are We?" for your Global connection.
If you can't make it out to the pastures, join or organize a DRUMSTRONG DRUMCircle in your village. See the drumSTRONG handBOOK
Check the list of cities participating this year. Talk to scott@drumstrong.org for details.
And TUNE IN to our Drum•A•Thon http://www.ustream.tv/channel/drumstrong and drum with us during our non-stop rhythm Main Event.
::

Accommodations 

::
If you're a guest from out of town or just need a nice place to stay, contact scott@drumstrong.org for assistance with finding accommodations and local eateries, etc.
::

Media

::
The Great Powers will be listening. TV and radio personalities, newspaper and magazines will be present during the course of the event. The entire event will be web-cast, film and photo documented.
   *drum circle* multiple and varied percussion instruments rhythmically struck to create a harmonic vibration by multiple and varied human instruments sharing their rhythmical spirit while creating community–not necessarily 'in the round' (or in that order…).
Please contact Scott Swimmer at scott@drumstrong.org or call 704.375.7177 if your company is interested in being a Sponsor, Exhibitor or a Vendor at our events.
D
-••

R

•-•

U

••-

M

—

S

•••

T

–

R

•-•

O

—

N

-•

G

–•