DRUMSTRONG events raise awareness and funds in support of cancer survivorship, education and research Globally through family friendly interactive rhythm gatherings.
DrumsForCures' Rhythm Aid Projects support humanitarian assistance in Ukraine.
From DRUMSTRONG co-founder Scott Swimmer

::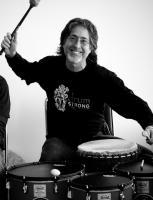 I love music.
Rhythm touches everybody : we breathe : we blink : we've all got a heartbeat …

DrumsForCures was created as a natural expression of our family's desire to be a vibrant part of beating cancer. Since rhythm is universal we decided that an event centered around the art and fun of hands on drumming would be a great way to bring people together. Our mission is to provide a vehicle for health entities and cancer societies to show communities the resources at hand to assist in directing and easing cancer concerns. Facilitating the 'introduction' and advancement of important organizations supporting those dealing with cancer, promoting early detection and working towards cures is our goal, and a cause that is close to my heart.
It's one of the hardest things imaginable to hear that your child has cancer.

In 2004, our son Mason was diagnosed with osteosarcoma, a bone cancer.

You know what you would do to give your child every opportunity to regain his health; to the depths of sacrificing your own but may have no clue what that entails or how to make it manifest.

The abyss of cancer information is riddled with question marks.

Ten months of intense treatments, seven surgeries and countless nerve-racking hours awaiting results later we're on the other side of diagnosis.
Mason is whole again. He now thrives with a notch in his belt and a hitch in his gait.
My mother, father, brother and I have survived our own personal challenges with cancer as well. My wife, Carola, younger son Tobias and friends are all too familiar with the impact this has on life.
How could we make this ominous environment better or at least easier to deal with for the next family?
Love, supportive understanding, humor and music helped soften some of the more stress-filled periods. 
During the many phases of this adventure, we met some very impressive people – many who have boldly walked away from their cancer experience and some who haven't. All have inspired us.
Mason was recognized as one of "the next generation of generals in the war against cancer."
Our family is convinced that there have to be better methods to assist those affected by cancer including prevention, early detection/diagnosis, alternative and/or less brutal treatments, more personalized, problem-specific rehab practices, age-specific treatment, social and family support and early childhood education.
We believe that research, education and support for survivors needs to be fortified through community and government efforts.
Mason, Toby, Carola and I came home from the 2006 Lance Armstrong Foundation's 'Ride for the Roses' event in Austin, TX full of inspiration and hope. We learned of superhuman, death defying efforts to raise awareness and funds to support cancer survivorship. I chose to direct my community efforts, talents and energies to do the same.
Our concept is simple ::
DrumsForCures produces DRUMSTRONG™ multicultural, musical, charity events showcasing available resources that support people with cancer and those who love them.
Our accessable, facilitated family-friendly interactive rhythm experiences encourage collaborative community focus in support of survivorship, education and research.
Uplifting, fun and memorable DRUMSTRONG drum circles for all abilities are scheduled in hospitals, clinics, camps, schools and businesses throughout the year and our annual main events allow for participants to drum together and

 gain per-hour drumming sponsorship pledges that enhances the experience and fund important initiatives.
All cancers and All populations are represented. We're drumming to BEAT cancer!
Our all-volunteer effort creates a hub and outlet for all parties. Important cancer health entities are featured and funded.
Drums are the perfect communicator as rhythm welcomes and embraces all who participate. Music truly engages all ages, wages and stages of health. We gather folks to rhythm (drum for crazy long periods of time), focusing on individual and community health; drumming in honor of, in memory of and working for cancer solutions.
The rolling pastures of Misty Meadows Farm in Weddington, North Carolina pulsed on May 5th & 6th, 2007 for the first annual drumSTRONG™. We drummed for 25 hours non-stop.

Since then, over 80 cities in 29 countries have hosted DRUMSTRONG events to raise awareness and funds for their local cancer initiatives. We've drummed for 30 hours non-stop. We webcast our events so that those in hospitals who aren't able to physically join an event, and cities worldwide can play together. We've raised hundreds of thousands of dollars (and yen!) for research, education, clinics, camps, individuals and humanitarian assistance (and never paid a salary as we all volunteer our services)!
It's Your rhythm :: Your cause!
Join us as a sponsor and participant in our quest to eradicate cancer by contributing to DrumsForCures; you don't have to have rhythm to join the fun and bang a drum, just a heartBEAT!
Most sincerely,

Scott
DrumsForCures, Inc. is the 501(c)(3) non-profit charity organization that produces DRUMSTRONG events globally in support of local cancer initiatives.
See our TEDx Talk for more in depth story ::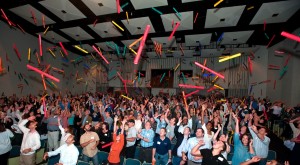 D

-••

R

•-•

U

••-

M

–

S

•••

T

–

R

•-•

O

—

N

-•

G

–•