¡! Celebrated 10 Years !¡
 DRUMSTRONG 2016
was back at the Farm in Weddington, NC
Our concept is simple :: DrumsForCures produces DRUMSTRONG™ events globally raising awareness and funds in support of cancer education, research and survivorship :: through Rhythm.
DRUMSTRONG 2016 was hosted back at Misty Meadows Farm and shared Rhythm, Resources, Fun and Heart.
Our world famous, signature event was held in the beautiful rolling pastures of Misty Meadows with a funky stage, great Art & Food vendors, Health Expo, KidZone, 12 hour non-stop YogaThon and our signature webcast DrumCircle with global participation.
Continuing the efforts to BEAT cancer, the Gong kicked off the 12 hr Non-Stop Drum Circle at noon on Sat, May 21 till midnight's rockin' finalé. The world's greatest professional Facilitators kept the rhythm in motion and Artist's from stage joined 100s in the Circle throughout the event and shared their spirit.
Raising awareness and funds to support cancer health, education and survivorship. Laughing, Playing, Dancing and Good Intentions encouraged!
We are the planet's longest continuous Drum•A•Thon 
¡drumming to BEAT cancer!
Drum in honor or memory of someone, for your own fortification or just out the goodness of your own heart and support survivorship. All cancers :: All populations.
It's YOUR RHYTHM :: YOUR CAUSE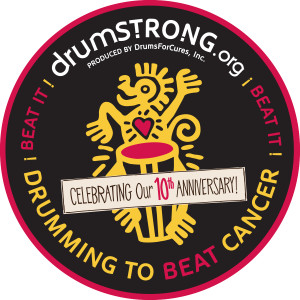 DrumsForCures, Inc. is the 501(c)(3) non-profit charity organization that produces DRUMSTRONG events globally in support of local cancer initiatives.
D
-••

R

•-•

U

••-

M

--

S

•••

T

-

R

•-•

O

---

N

-•

G

--•