Please come out & Play! (and support the efforts)…
On April 29, 2023 Team DRUMSTRONG will support PanCAN PurpleStride 5K '23 in multiple cites with uplifting facilitated interactive rhythm events for those who can't physically participate in the 5K and/or for those waiting for family and friends to complete the 5K. Drummers are encouraged to gain "Drumming sponsorship pledges" to help the cause.
Click HERE to join PanCAN's Team DRUMSTRONG.
Click HERE to download a simple letter to help raise funds.
Click HERE for a list of participating cities and details.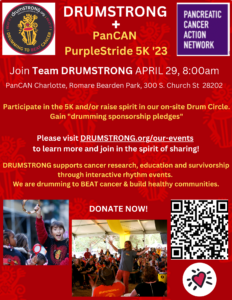 The Music Therapy Club of Queens University will again be hosting an interactive Drum Circle in support of cancer survivorship with DRUMSTRONG!
Wednesday, April 12 from 5:30-7:30PM in front of the Levine Center for Wellness and Recreation.
Snacks, beverages, and fun provided! Come join us!
All are invited!
On this Winter Solstice, Wed, Dec 21, 2023 the shortest, darkest day of the year, we will bring rhythm to awaken the spirit of sharing and light in support of cancer survivorship and research with a focus on #PanCAN :: Pancreatic Cancer Action Network.
The good people at Vaulted Oak Brewing are making their lovely space available for us again. Food truck and amazing beverages on site.
Free :: Family friendly interactive Drum Circle :: Donations to DRUMSTRONG.org 501c3 welcomed (PanCAN Pancreatic Cancer Action Network will benefit).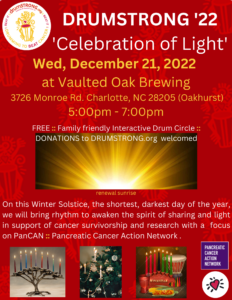 ¡ THE MAIN EVENT !
'DRUMSTRONG 2021′ 15th Anniversary :: encouraging Restoration, Healing and Deliverance from dis•ease through interactive rhythm.
10 :: 2 :: 2021
'DS 2021' DRUMSTRONG's 15th Anniversary will be our final local Main Event celebration. Join in supporting cancer survivorship, education and research at the main event one last time in the beautiful pastures of Misty Meadows Farm 455 Providence Rd S. Weddington, N.C. 28173 on Oct. 2 from noon-4:00pm (EST). Gates open at 11:00am.
With a Big Tent open air, non-stop Drum Circle, Aerial Silks, Food Trucks, REMO the Dragon and a 'knock-yer-socks-off' fundraising after party with Jeff Sipe and friends throwing down…
The main event is Free! We do encourage that you request "per hour drumming sponsorship pledges" and help the cause(s).
Funds raised will boost support for the Paula Takacs Foundation for Sarcoma Research, Levine Children's Hospital, Levine Cancer Institute, MusicLand, Hemby and St. Jude Children's Hospitals and DS efforts facilitating interactive rhythm events globally.
We are offering a very cool opportunity to join the catered 'After Party' and the 1st 100 people to raise and/or make a minimum $50. donation are invited to celebrate with us till sunset after the Drum Circle.
$200.+ donors receive the commemorative 15th Anniversary DS 2021 t-shirt!
For the health and safety of our elderly & medically fragile participants (and ALL) we welcome vaccinated individuals to come out and play. (This is required by the venue as well. You will need proof of vax or a current 48 hour negative test result and masks for unvaccinated children).
Cities around the world who are able to safely gather will be joining us via webcast.
 DS 15 will be facilitated by some of the world's loveliest facilitators and we encourage online fundraising.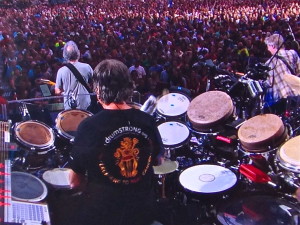 CALENDAR OF UPCOMING DRUMSTRONG EVENTS

::
Queens University Music Therapy DRUMSTRONG 2021 on campus. Socially distanced fundraiser drum circle. April 15 @ 7:00pm outside in front of the Levine Center
June 27, 2019 Catawba Brewing Co Pre-Dead & Co. Party with Wavy Train, Turpentine Shine and a rockin DS DrumCircle & Drums/Space
June 14, JUNETEENTH 2019  

Drumming at The Pizza Peel corner of Central and Thomas. 6:00pm. We will have plenty of Drums & Percussion. Bring your spirit!
May 10, 2019 Charlotte Shout Festival ‐ Levine Pavilion, Charlotte, NC 28202 

Friday, Noon-1:30 Interactive Drum Circle in front of the Bechtler Museum
May 3, 2019 8:00am Creative Mornings breakfast Talk. We're drumming to welcome folks and encourage dancing and joining in.
(they'll feed us breakfast!)
April 27, 2019 Sarcoma Stomp Hosted by The Paula Takacs Foundation for Sarcoma Research  Christ Providence – Christ Lutheran

4519 Providence Rd, Charlotte, North Carolina 28226

Fun, family friendly Drum Circle to support the 5K Run and 3K Walk raising awareness and funds for sarcoma research t Levine Cancer Institute
April 13, 2019 at Queens University. The Music Therapy Club sponsors a DRUMSTRONG Fund-raising Drum Circle from 7:00-10:00 pm. Interactive Drum Circle at the Fire Pit on the campus Quad. Park on Radcliffe or in front of Queens on Selwyn

, 1900 Selwyn Ave, 

Charlotte, North Carolina 28207 :: Free to play!
April 6, 2019 at The McColl Center for the Arts "20th Anniversary Celebration". Noon-2:30 Interactive Drum Circle on the front lawn

721 N Tryon St,

Charlotte, North Carolina
Drumming with The NEST every Friday. The Nest provides education and a warm sense of family to under-privileged youth, many from compromised and distant environments.
:: PAST EVENTS ::
February 3, 2019
Playing For Others drum circle/dance jam!
What started out as a fun drum circle/jam with the wonderful folks at #playingforothers today, ended up a totally rockin #danceparty !
January 15, 2019
Any local folk want to join us this evening and help facilitate this family support drumming with The Center For Community Transitions ❘ Families Doing Time? 
– Tuesday, January 15th from 6:00 pm – 7:30 pm. at St. Luke's Lutheran Church (3200 Park Road Charlotte, NC 28209) and we are preparing for 60-80 people. 
– Their theme for the year is "Strengthening Family, Strengthening Me." 
– They will have carribean food (you are welcome to eat there) and decor, and the drum circle would align well with both themes.
Need help setting up and maintaining the circle. Some co-facilitation is welcomed. Please email [email protected]
December 22, 2018 Winter Solstice Full Moon Celebration/Reset
Join the Full Moon Solstice Celebration in Paul's across-the-street-studio-space 422 E. 22nd St 28206 in NODA
Drum : Dance : Hoop : Sing
More than ever, we need a positive outlet and hope for a Bright future. Let's set that intention!
Be Solsticed, Be Soothed, Be Smudged, Be Loved
BRING drums/percussion (we have some), a chair, a refreshment to share, voice, hoops, joy :: dance, chant, yaya & DRUM!
Free
The DRUMSTRONG Float in the 2018 Thanksgiving Day Parade in Charlotte. Look what we got to do on Thanksgiving morning!
DRUMSTRONG drummers and lovers shared our pulse with 150k peeps on the streets of Charlotte and raised the spirit in honor of, in memory of and in support of all those dealing with the C-monster beast.
True heartfelt love and appreciation for those who braved the crisp, clear morning and celebrated the challenges and fortified Hope.
We really did ROCK (while rollin)!
DRUMSTRONG 2018 12TH ANNIVERSARY was May 19, 2018
DRUMSTRONG 2017 11TH ANNIVERSARY was May 20, 2017 DRUMSTRONG 2016 10TH ANNIVERSARY was May 21, 2016 @ Misty Meadows Farm, Weddington, NC
The good folks at Olde Mecklenburg Brewery, and especially Debbie Mijatovic, host Yoga OnTap (YOT) every Tuesday. We have been honored to drum as their Rhythm Kirtan for as many as 400 yogis. It's a beautiful, fun (beer & yoga!) happening. AND, YOT has coordinated several fantastically generous yoga studios to facilitate the YogaVille activities at DRUMSTRONG 2016. Please visit and 'Like' Yoga On Tap
Zac Brown's 'Camp Southern Ground' Sat. Oct. 3, 2015 10:30am-4:30pm and again Sept 2016
Temple Israel 'Simchat Torah' celebration Mon. Oct. 5, 2015 5:00-7:00pm
Blumenthal Arts 'Breakin' Sat. Oct. 10, 2015 at Spirit Square and Discovery Place 10:00am-12:00pm
DRUMSTRONG 2015 RHYTHM+ARTS FEST May 9,  2015 MAIN Event
Thunder Road Marathon 2014
Oct 25, 2014 Plaza Midwood Neighborhood Festival Drum Circle
then the Cardinal Innovation 2pm – 4pm  Integrated Healthcare Family Fun Day
Simchat Torah Celebration – Temple Israel
Youth Choir drum circle – Myers Park Baptist Church
March 6, 2014 Myers Park Traditional School, Dana Auditorium
May 16, 17 & 18 DRUMSTRONG 2014 MAIN EVENT
July 5, 2013 Camp Happy Days drumming
June 11, 2013 Camp Kemo drumming
May 17, 18 & 19 DRUMSTRONG 2013 MAIN EVENT
May 8, 2013 :: Levine Children's Hospital :: 2:00 pm :: DRUMSTRONG and Queens U Music Therapy students will bring drums to play with the children, families and staff.
May 8, 2013 :: Mickey Hart DrumCircle @ The Neighborhood Theatre, 36th & N. Davidson St, Charlotte, NC :: contact [email protected]
DRUMSTRONG will facilitate a special interactive Drum Circle to open Mickey Hart's Neighborhood Theatre gig. Beautiful Belly Dancers, Didge and Drums! come out & Play!
April 30, 2013 :: Levine Children's Hospital :: 2:00 pm :: DRUMSTRONG and Queens U Music Therapy students will bring drums to play with the children, families and staff.
May 21 DRUMSTRONG 2016 MAIN EVENT
May DRUMSTRONG 2015 MAIN EVENT
May 19, 20, 21 DRUMSTRONG 2014 MAIN EVENT
May DRUMSTRONG 2013 MAIN EVENT
May 15, 16 & 17 DRUMSTRONG 2012 MAIN EVENT – 30 HOUR NON-STOP RHYTHM TO BEAT cancer!
May DRUMSTRONG 2011 MAIN EVENT
MAY DRUMSTRONG 2010 MAIN EVENT
May DRUMSTRONG 2009 MAIN EVENT
May DRUMSTRONG 2008 MAIN EVENT
May DRUMSTRONG 2007 MAIN EVENT – FIRST ANNUAL!